By martin | November 25, 2008
Topics: | 4 Comments »
By martin | Juli 23, 2008

Am 16. August spielen wir auf einem feinen kleinen Festival in Denens in der Schweiz, dem Berles Rock Festival. Denens liegt liegt in unmittelbarer Nähe zum Genfer See zwischen Lausanne und Genf. Also Liebe Schweizer Freunde: Wir würden uns freuen euch da zu sehen. Die Webseite ist komplett auf Französisch und da steht was über uns und wir hoffen natürlich nur Gutes.
Topics: | No Comments »
By martin | Juli 17, 2008
Hej Freunde, Der Nachwuchs ist da, die Diplome sind geschafft, die neuen Wohnungen bezogen und endlich werden wir wieder mehr Musik machen. Wir starten hiermit höchst offiziell die Arbeiten am neuen Album, so gedanklich zumindestens…
Topics: | 2 Comments »
By martin | April 25, 2008

Hej - Viel los im Moment auch wenn es nicht so ausschaut doch zukünftige Erdenmenschen und potenzielle oder bereits absolvierte Hochschulabschlüsse halten uns genauso auf Trouble wie Eigentumswohnungen und die Lohnarbeit. Wir spielen noch auf einer Hand voll kleiner Festivals diesen Sommer z.B. auf dem Campusfestival in Leipzig am 26.05.2008 - mehr Daten gibt es bald.
Wir werden diese vermeindlich ereignislose Zeit damit überbrücken einen Blick zu werfen auf unsere ehemaligen und neuen Bandmitglieder und ihr zahlreichen Haupt und Nebenprojekte und auf spezielle Freunde des Hauses.
Andres wird im Mai mit seinen Nebenprojekten :) also mit Siva und I Might Be Wrong einige Konzerte spielen (unter anderem Supporten IMBW The Most Serene Republic am 13.Mai im im Berliner Lido). Beide Bands haben übrigens wunderbare mehr oder weniger neue Alben draussen.
Sebi widmet sich im Moment neben dem Familienleben voll und ganz seiner Band Kate Mosh und seinem Soloprojekt Petula. Kate Mosh bringen heute ihre neue Single E.P. »The U in Us heraus« und am 29.05.2008 gibt es im Berliner Festsaal Kreuzberg dazu eine große Sause.
Da dabei am 29.05. sind auch zwei weitere Bands die uns sehr am Herzen liegen. Zum einen Ter Haar die gerade die Aufnahmen an ihrem ersten Album beenden und bereits Ende Mai eine vorab Single-E.P. auf unserem Lieblingslabel veröffentlichen und zum anderen die neu Berliner von Trip Fontaine. Bitte unbedingt in der ihr neues Album »Dinosaurs in Rocketships« reinhören.
Auch Anne ist auf Solopfaden unterwegs und hat gerade ihr Aufnahmen beendet. Wir sind sehr gespannt.
And last but not least. Am 16.5.2008 erscheint das neue Bodi Bill Album »Next Time« auf Sinnbusrecords und es ist umwerfend. Bitte schaut euch die Releasekonzerte in Dresden, Leipzig und Berlin im Mai an.
So dann drückt uns die Daumen das hier alles gut geht. denn wie gesagt auch wenn es im Moment sehr ruhig um uns erscheint ist das persönlich für uns alle ein sehr ereignisreiche Zeit.
Topics: | No Comments »
By martin | März 16, 2008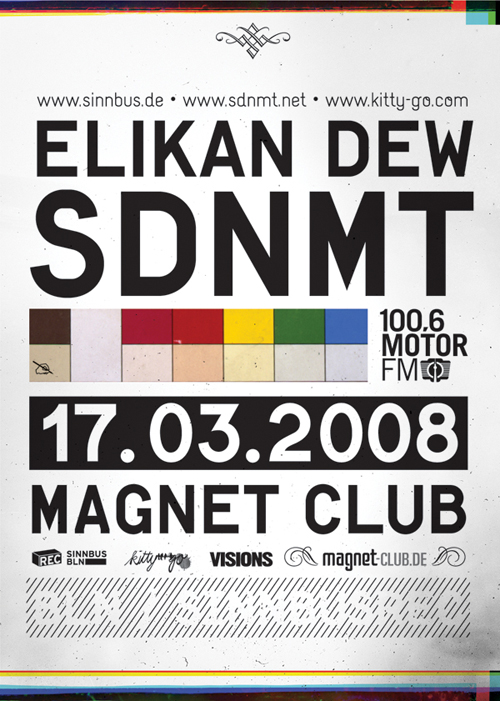 Topics: | 4 Comments »
By martin | März 10, 2008
hej freunde, nun sitzen wir hier backstage in konstanz und warten drauf dass es los geht. schön tage liegen hinter uns, wir waren in bern, haben uns an kaminfeuern, holzhütten, exotischen instrumenten, cooking battles und spärlich vorhandenem internet erfreut. so kann es gehen. gestern turnten wir durch die alpenlandschaft in der nähe von düdingen und machten skilifte und schneehänge unsicher. von so vielen eindrücken in so kurzer zeit kann einem schwindelig werden! jetzt heißt es erst mal einbiegen in die zielgerade fünf konzerte liegen jetzt vor uns, am stück und kreuz und quer im land verteilt, bis wir zu hause ankommen werden…wir halten euch auf dem laufenden!




Topics: | 3 Comments »
By martin | März 5, 2008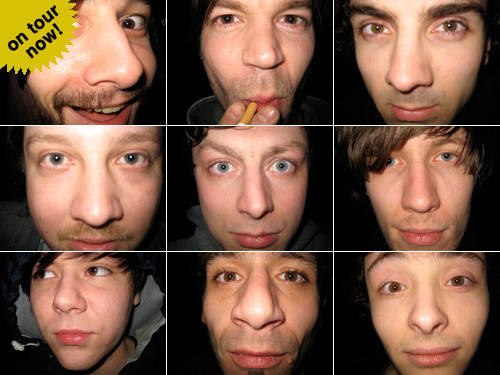 Hallo Zusammen, das mit dem Internet unterwegs erweist sich als komplizierter als gedacht. Deswegen gab es in letzten Tagen keine Updates. Im Moment sind wir in Nürnberg. Dresden, München, Wien und 2 Offdays im Bayerischen Wald liegen bereits hinter uns. Die Stimmung ist sehr gut. Vielen Dank an alle die uns besucht haben und an unserere Gastgeber. Wir freuen uns auf die nächsten 11 Tage und Viele Grüße in die Heimat.

In Dresden trafen wir unsere Freunde von Polarkreis 18 und in Wien haben wir Lee Ranaldo von Sonic Youth im Fahrstuhl unseres Hotels getroffen. Amazing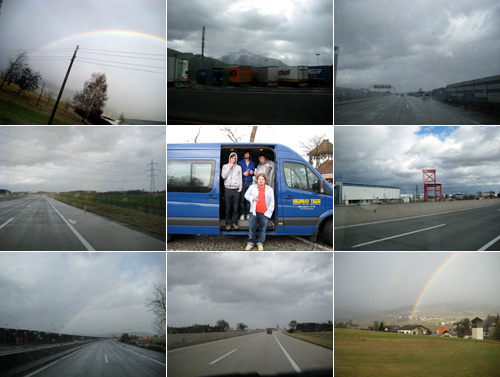 Ansonsten sehen wir sehr viel Autobahn und Laptops, halt touren…

Topics: | 8 Comments »
By martin | Februar 29, 2008
Lebensweisheiten…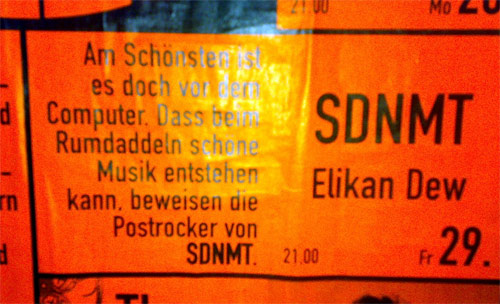 Topics: | 3 Comments »
By martin | Januar 16, 2008

Wir sind wieder online, bitte entschuldigt die Probleme mit unseren Server. Es gibt einige Neuigkeiten.
TOUR
Die Nachholtermine für unsere Tour im März stehen fest. Vom 29.02.2008 - 17.03.2008 sind wir unterwegs mit unseren Proberaumkollegen Elikan Dew. Mehr dazu in Kürze…
FILM
Es gibt es zwei Songs von uns in dem Film Berlin am Meer von Wolfgang Eissler mit Robert Stadlober, Anna Brüggemann, Jana Pallaske, Axel Schreiber und Claudius Franz der gerade aktuell in den Kinos anläuft.
SINNBUS + PNG = BIG LOVE
Am 22.01.2008 erscheint die neueste Ausgabe des Musikmagazins PNG aus Leipzig inklusive einer Compilation unseres Labels Sinnbusrecords. Dazu wird es am 26.01.2008 in Leipzig im Ut-Connewitz eine Releaseparty geben. Live: Bodi Bill, Ampl:tude und SDNMT. Wir hoffen sehr euch da zu sehen.
MERCH
Wir haben neue T-Shirts. Die kann man hier bestellen.
JAHRESPOLLS
»We congratulate that the album of your band has been selected among the best European albums of 2007 by ListenToEurope.«
In der Visions haben wir es auf Platz 47 geschafft. (danke!) Der Leserpoll ist noch Online und lädt zum mitmachen ein.
UND DANN NOCH
Heiraten, Babies bekommen, Diplom schreiben, Arbeiten, Musik machen usw…
Topics: | 2 Comments »
By martin | November 28, 2007
Hej Freunde, uns hat das Glück gerade verlassen und wir müssen 2 weitere Konzerte absagen. Nürnberg und Köln fallen leider aus. Es tut uns sehr leid, wir versuchen aller Termine im Frühjahr nachzuholen. Wir bitten um euer Verständnis… Hamburg und Magdeburg finden wie geplant statt und wir freuen uns sehr darauf.
28.11.2007 Nürnberg (D), Muz
29.11.2007 Köln (D), Underground
30.11.2007 Hamburg, Prinzenbar Sdnmt mt I Might Be Wrong
01.12.2007 Magdeburg, Projekt 7 Sdnmt mt I Might Be Wrong
07.12.2007 Berlin, White Trash - Motor FM X-Mas Halli Galli
Topics: | No Comments »
« Previous Entries